MOTION Student Conference 2022
Middle School
/
High School
/
College
Date Coming Soon
REGISTER HERE
The MOTION Student Conference is a catalyst weekend for students to be empowered by Jesus to put their faith into motion. Strategically scheduled at the end of the summer, it is the perfect opportunity for students to be inspired, encouraged, and equipped to start the school year strong for Jesus.
MOTION 2022 is here!
CONFERENCE APP
Before you arrive on, the property, be sure to download the MOTION Conference App! This will allow you to be a part of the MOTION 22 Opener + experience MOTION in a new way the whole weekend!
sTAY CONNECTED
Text MOTIONto 74000 for all updates!
Follow us on Instagram @HighlandsStudents / @MotionStudents
For any questions in regards to MOTION 2022, please email us at info@motionstudents.com and someone from the MOTION Team will be in touch with you soon.
mOTION 2022!
We see a world restored by His love, rooted in His word, reflecting His light, released into Motion, and it will all start at MOTION 22! It is our prayer that students leave the conference refreshed, equipped, and inspired to live their lives in MOTION at home, in the local church, in their cities, and around the world.
Everyone, everywhere - come join us back in the Arena at MOTION 22!
WHAT TO EXPECT
schedule
THURSDAY, JULY 28
12:00-6:00pm Registration Open
5:15pm Complex Opens
5:30pm Arena Doors Open
7:00pm MOTION Conference |Session 1
9:00pm Late Night Worship
10:00pm End of Night + Student Pick Up

FRIDAY, JULY 29
8:30am Complex Opens
9:00am Arena Doors Open
10:00am MOTION Conference | Session 2
12:00pm Lunch begins in Community Groups
12:30pm Community Group 1 | Youth Leaders Session 1
1:30pm Arena Doors Open
2:30pm MOTION Conference | Session 3
4:30pm Community Group 2| Youth Leader Session 2
5:30pm- Dinner Available in Community Groups
5:45pm Highlands College Snapshot
6:00pm Doors Open
7:00pm MOTION Conference | Session 4
9:30pm End of Night + Student Pick Up

SATURDAY, JULY 30
8:30am Complex Opens
9:00am Arena Doors Open
10:00am MOTION Conference | Session 5
12:00pm Lunch begins in Community Groups
1:00pm Arena Doors Open
2:00pm MOTION Conference | Session 6
4:30pm End of Conference
5:00pm Motion Conference After Party hosted by Highlands College- At the Highlands College Campus

MAIN SESSIONS
During our main sessions, we will engage in worship and hear a powerful message from different speakers and artists.
COMMUNITY GROUPS at MOTION
Conference Community Groups are designed to connect and engage students in life-giving relationships and lead them to dig deeper into truths shared during main sessions. Community Groups provide the opportunity for the bigger main sessions to become small and more personal. Through Community Groups, students will be motivated, encouraged, and trained to live their lives in MOTION. Community Groups are divided by age (Middle School, High School, College) and our students will have a Highlands Pastor help facilitate their group time.
LINE UP
Rich Wilkerson Jr.
Dawnchere Wilkerson
Earl McClellan
Sadie Robertson Huff
Craig Groeschel
TAYA
Brooke Ligertwood
DOE
KB

MOTION Hosts
Chris Hodges
Mark & Jill Pettus
MOTION Worship
COST
The pricing below is for Highlands Students and include

Access to all MOTION Conference Main Sessions with reserved seating with your campus
Access to all Community Group with reserved seating with your campus
$80 per person (until March 1, 10:00am CST)
$90 per person (after March 1, 10:00am CST)
$100 per person (after April 1, 10:00am CST)
$110 per person (after May 1, 10:00am CST)
$120 per person(after July 1, 10:00am CST)
$130 per person(at doors)
*Please note that dates and rates are subject to change. The registration price does not include lodging, meals or transportation unless you are registering with the All-Inclusive package. See all package options and add-ons below.
---
Highlands Students Information
SEATING
Students will be seated with the Highlands Campus with which they registered and will be placed into a Seating Community. Each Seating Community will rotate each day of conference. Being grouped with their Highlands Campus provides an excellent opportunity for your student to get to know their peers and campus leaders.
Meals
Boxed meals will be available to purchase as an add-on for $30 when registering for MOTION Conference. If you purchase meals, you will receive a boxed meal for Lunch and Dinner on Friday, July 29 and Lunch on Saturday, July 30. Each boxed meal includes an entree, side, dessert, and water.
Bag Policy
To provide a safer environment for the public and significantly expedite guest entry into the arena, the Legacy Arena at the BJCC implemented a policy recently that limits the size and type of bags that may be brought into stadiums, and will be scanning every person as they enter the building. We strongly encourage guests to not bring any type of bags, but have outlined what is permissible. Guests will be able to carry the following style and size bag, package, or container on-site at BJCC complex: bags that are clear plastic, vinyl or PVC and backpacks that do not exceed 14″ x 14″ x 6″ or a one-gallon clear plastic freezer bag (Ziploc or similar).
Out-of-town Campuses
All-Inclusive Package
This is available for purchase for students who are traveling from out-of-town campuses. This package includes transportation, lodging, meals and registration. The cost of this package is an additional $150.00 to your registration. From the time your student leaves to the time they return, all meals will be provided. You may want to send additional spending money for your student for any extra snacks they may desire to purchase on their own. Lodging will be provided at a hotel in close proximity to the BJCC. Our campus leaders will accompany students at all times. Campuses will have reserved seating together in the Highlands Students section of the Arena. This provides an excellent opportunity for your student to get to know their peers and campus leaders.
Without All-Inclusive Package
There are two options for transportation: You can use a personal vehicle or take advantage of the Highlands Students Drop-Off/ Pick-Up (more details under Highlands Students Information).
In-town Campuses
Registration does not include transportation, or lodging. See recommended options below.
Transportation
In addition to the two options under Highlands Students Information, there is a campus shuttle option. Shuttles to and from the BJCC will be made available daily from the some campuses. Simply drop off your student in the morning at the campus near you, and pick them up that evening at the same campus. A shuttle schedule will be posted online. The cost for the shuttle is $40 per person for all 3 days of conference. You can purchase the shuttle package with your registration.
College / ONE
We will have a special experience for college students at MOTION 2022. See below for some of the exciting plans.
College Hotel Block
For college-aged students specifically, we have rooms reserved at Hilton Birmingham at UAB for MOTION Conference attendees. This is a great option instead of the All-Inclusive Package if you will be providing your own transportation to conference, but still would like to stay with others in our room block. Book your stay with a group of friends using this link: College Hotel Reservation Link.

Register with Friends and Save
Register 6 or more students for MOTION 2022 and a $5 discount will be automatically applied to each registration in your cart.
College Community Groups
College Community Groups are always a highlight of MOTION Conference. This year, we're mixing it up and not only giving you the chance to meet new friends and dive deeper into what God's speaking to you, but we're also bringing in some of our guest speakers to hit the topics that matter to you most.
Serve
The Dream Team is a massive part of making Motion Conference a success each year, and we invite all Church of the Highlands Dream Team members to be a part of an impactful weekend by serving. Connect with the Student Director at your campus for more information.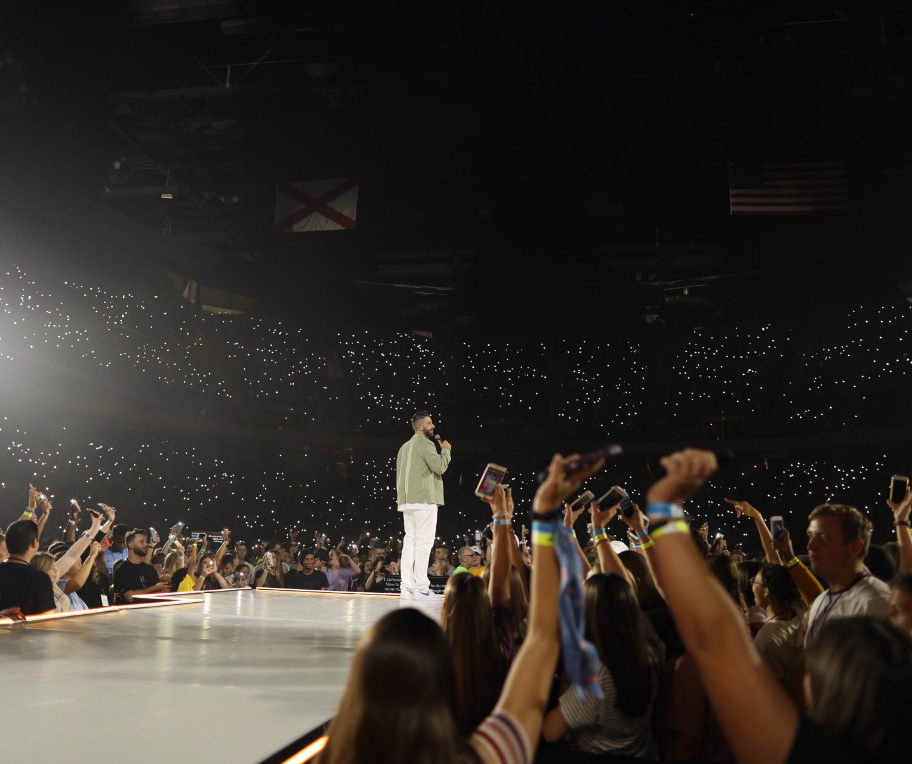 SCHOLARSHIPS
We never want money to be the reason you aren't joining us at conference! If you would like more information or to apply for a scholarship, please email scholarships@churchofthehighlands.com
PARENTS
Parents, you can text PARENT to 74000 for all updates from our team!
**You will receive text messages from Church of The Highlands. Message & data rates may apply. Messages frequency varies. Reply STOP to stop, HELP for help. Terms: http://clst.io/74000. Privacy policy:http://clst.io/privacy.
MOTION 22 PARENT EXPERIENCE
We are so excited to offer our middle school parents a special ticket this year to join us at MOTION Conference 2022!

We understand that coming to conference for the first time can seem a little intimidating for a younger student. We hope that this opportunity to be in the room with them will bring both you and the student some comfort as you navigate MOTION Conference of the first time.

You can click here to get registered, as well as view the 'Parent Experience' resource page down below for more information on this experience!